The innovative Vangater at once solves the problem of wheelchair access and ambulatory entry with a power tri-folding platform. Over half the van's side door is available for easy ambulatory exit and entry when the handicapped lift is in the stowed position. But the touch of a button quickly unfolds the platform, revealing a fully functional wheelchair lift in a compact package.

The BraunAbility Vangater II Series lifts for wheelchairs are fully electric in operation, for both the fold/unfold and up/down cycles. Lift operation is controlled by the standard hand-held control, the on-lift controls, or the optional remote control.

The Vangater II Series is designed for installation in the side doors of domestic full-size vans. A model is also available for installation in minivans, see your dealer for details. With the compact tri-fold platform, the lift occupies minimal space inside the vehicle.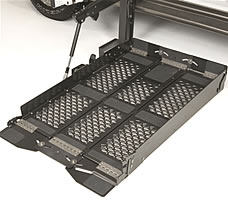 Specifications
Outboard Roll Stop
Hand-Held Control
Folding Platform
Switch Arm
Control Tower
Threshold Sensor Mat
Optional Door Operators
Specifications